Features
Nextcloud Single Secure packages offers everything a Nextcloud Single option does, and more! Safeguard your data with that extra little bit of security via server-side encryption!

Single User
Welcome to your private piece of heaven. Send mail, store data, work on your projects, plan your vacations and more!

Security Apps
Ransomware recovery, phone track, privacy and many more already set up to guard and protect your data and your cloud!

Up to 10 TB storage
The sky is the limit! You can get as much space for your data as you'd want or need! At any time and in a moment's notice!
Plans & Packages
Nextcloud Single Secure plans are all set up and ready to go, with server-side encryption enabled, preinstalled apps (including Talk), online office documents, daily backups and absolutely no setup fee! Just like Nextcloud Single, but with a bit of added protection for your data!
Additional Apps Available on your Nextcloud Single Secure account: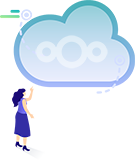 Dip your toes and try out our cloud hosting service with a free Nextcloud account, with 5 GB of free space, accompanied by a selection of preinstalled apps, perfect for storing and organizing your data!
(Apps available to our free users are: Files, Calendar, Contacts, Mail, Tasks, Gallery, TOTP, Notes, Collabora Online and OnlyOffice.)